Automatic strapping machine for copper coil
This is a kind of strapping machine specially designed for various metal coil such as copper coil, steel coil, aluminium coil etc. The product is introduced via a roll conveyor. Also the rotating table is composed of 3 or 4 tapered rollers driven by separate motors. When the photo senor detect the product, the feeding conveyor stops and the rotating table would be lifted via pneumatic cylinders. The machine starts strapping activity while the table is in rotating. After strapping completed, product would be released and keep conveying and tapered rollers drops.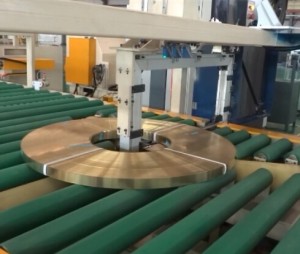 Watch the following video for your reference.