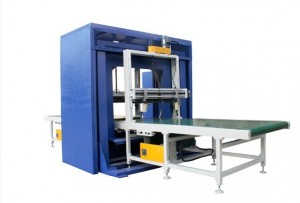 I am a Russian trade agent in China, name Elena. Now one of my clients from Orsk (Russia) is looking for a provider of orbital stretch wrapper and packing stretch-hood machine. He need to pack freezers, so sizes of packing is 2000*500*500 mm, weight about 100 kg. I know some Russian parameters, but it can be changed:
Film thickness: 70-200 μm
Difference in thickness: ±4%
Sleeve width: till 1800 mm (1150+325+325 tab)
Perimeter of packing: till 3600 mm
Stretching limit: 50-100%
If u have a stretch-hood packing machine (now I am talking about packing machine, not about film) suitable for packing freezers please send me specification with FOB price to my mail:
Some information about our company:
This is Pratheek from South India.
We have a machine to be delivered from China.
As searched online, we got to know that you are the best for trade.
Well, can you please give me the details of the expenses we will have to bear for the transaction.
Our orbital stretch wrapper machinery cost is $28000 USD
Please let us know about the packing, insurance, mode of transportation and what will be your role and how can you help us with this.
Our company Plasticos manufactures plastics films in Mexico, including stretch hood film for orbital stretch wrapping machine.
We are interested in your stretch hood machines for our own use, and for distribution in the future. At the moment we are interested in buying one of them.
Please send us:
1) technical information.
2) quotation FOB mexican port ( Manzanillo)
Thank you in advance for your atention.