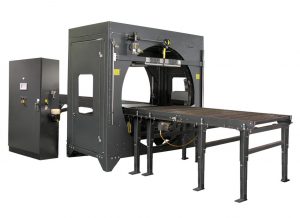 Brief introduction
The shrink wrapping machine all conform to CE guidelines and have been designed using the latest technology and design criteria for industrial use.
The JLPACK provides orbital stretch wrapper packaging solutions for the window industry. Our commitment to the industry has resulted in the development of innovative, cost efficient products that address problems like loose, irregular packaging. Our sales, equipment service, customer service and engineering departments can help you design the optimum protective packaging system for your application.
Automatic Sealing and Shrinking Machine for wood board & window & door with full sides packaging.
Features
Automatic Sealing Station and orbital stretch wrapper:
Lengthways sealing.
The height of the sealing is adjustable.
Smokeless sealing and packing material residual free.
Speed of the sealing is adjustable according difference packing material.
Conveyors driven by motor with gear box.
Speed of the conveyors is adjustable.
Sensor detecting the objects for operation action.
Automatic center orientation device to regulate products' center.